Korlok Select vs Ceramic and Porcelain Tile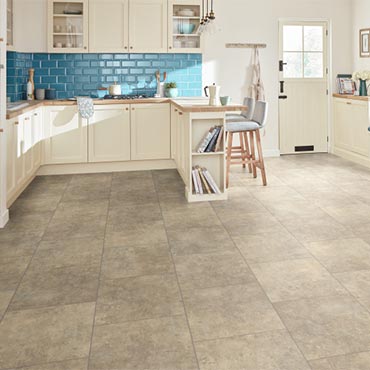 We recently introduced 17 stone looks to our interlocking Korlok Select floating floor range. Like all Karndean Designfloors, these stones are waterproof, durable, kid and pet friendly, come with a lifetime residential warranty and feature original Karndean visuals! These visuals were developed from antique French cotta, Calacatta marble, slate, limestone and include Moorish stenciled tiles.
Perhaps you're considering adding a ceramic or porcelain tile to your kitchen, bathroom or laundry room. With our Korlok Select stones you can enjoy the look of these materials without their practical drawbacks. Here are some of the benefits of choosing Korlok Select stones over ceramic or porcelain.
Stain-Resistant and Color-Coordinated InteGrout™
Typical textured or sanded grout can age a ceramic or porcelain floor. Because these types of grout are porous, they absorb substances that are spilled on them, stain and discolor over time. You'll need to scrub typical grout aggressively or bleach it to return it to its original color.
However, all but two of our Korlok Select stones come with seamlessly attached InteGrout™ that is nonporous, stain-resistant and color-coordinated to complement the color of the tile. You can easily wipe up spills on our grout-effect luxury vinyl tiles with a cloth and pH neutral cleaner! Not only is InteGrout™ easy to clean, but it ensures you have consistent, straight grout lines between each tile, as no spacers are needed during installation.
Warm Underfoot
If you've ever rented or lived in a home with ceramic or porcelain tile, you know just how cold these materials can get during the winter months or even when your air conditioning is running. Treat yourself to the luxury of having a warmer, softer and more comfortable floor under your feet with Karndean Designflooring. It's even compatible with underfloor heating.
Suitable for Any Level in Your Home
At just 1/3 of the weight of the average porcelain tile of the same size, Korlok Select can be easily transported and installed in any level of the home. Upstairs bathrooms, bedrooms and walk-in closets are perfect for our Korlok Select stones!
Acoustic Qualities
Each Korlok Select tile has a pre-attached acoustic foam backing that is commercially rated for reducing sound transfer to the room directly below.
Less Upheaval During Installation
With Korlok Select, you can walk across your new floor as soon as installation is completed because it does not need to cure or be sealed like ceramic and porcelain since there is no mortar or grout used. In addition, Korlok Select's waterproof and rigid K-Core® layer, along with a 5G® locking mechanism, allows for a fast, floating installation over most existing hard floors so there's no need to demo your existing floor if it's in good condition.
---
NOTE:
Exploring Flooring Inc does not carry every style of product. Check with us first about a particular product or to see if your product choice is available for special order.
---

---
Karndean Waterproof Flooring
We supply homes and businesses with Designflooring, floors that are stunning to look at yet easy to look after. Each comes with a selection of customizable features so you can create something really special and personal to you. With so many styles, finishes and formats to choose from, everyone can find something to suit their personal style. The ethics and values of our founder run through all teams and aspects within our business and we're proud to be a leader in environmental commitment with a focus on corporate social responsibility.
---
Profile
|
Website