About Mohawk SmartStrand Carpet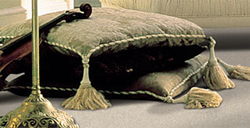 Unraveling the Comfort and Durability of Mohawk SmartStrand Carpet
Introduction

Flooring is an integral element in any home or commercial setting, as it not only sets the tone for your space but also influences your comfort and well-being. One name that stands out when considering quality and innovation in carpeting solutions is Mohawk SmartStrand. This breakthrough carpeting product offers a blend of luxury, performance, and eco-friendly attributes, which positions it as an excellent choice for those who do not want to compromise on quality. Here's an in-depth look at what makes Mohawk SmartStrand Carpet stand apart from the competition.
Innovative Fiber Technology

The unique selling proposition of Mohawk SmartStrand lies in its revolutionary Triexta fibers, a derivative of corn glucose. Unlike traditional nylon or polyester carpets, SmartStrand's unique composition makes it inherently stain-resistant, resilient, and soft to the touch. The fibers have built-in stain and soil protection, which won't wear or wash off over time, making it a long-term investment for any home or business.
Durability

One of the primary concerns with carpets is how they fare against daily wear and tear, especially in high-traffic areas. Mohawk SmartStrand ensures long-lasting performance, thanks to its durable fibers. Tests show that it is 3x more durable than standard carpets when it comes to retaining its texture and appearance. Its construction also prevents matting and crushing, which are common issues with other types of carpet.
Eco-friendly Credentials

In today's increasingly environment-conscious world, Mohawk SmartStrand scores high on eco-friendliness. Since it's made primarily from renewable resources, it reduces the need for petroleum-based products. This results in a smaller carbon footprint, without compromising on performance or aesthetic appeal. The production process is also optimized to be energy-efficient, further cementing its eco-friendly reputation.
Easy Maintenance

Keeping a carpet clean can often feel like an endless chore, but Mohawk SmartStrand simplifies this task with its easy maintenance. Due to its inherent stain resistance, most spills can be cleaned with water or mild detergent. This resistance extends to pet stains, making it an excellent choice for animal lovers. Unlike traditional carpets that require professional cleaning to remove embedded dirt and stains, SmartStrand can often be kept pristine with regular vacuuming and occasional spot-cleaning.
Design Versatility

While performance and durability are crucial, aesthetic appeal is equally important. Mohawk offers a range of colors, patterns, and textures to suit any decor style. Whether you're looking for a plush, luxurious pile or a sleek, modern finish, SmartStrand has options to match your taste and integrate seamlessly with your interior design.
Conclusion

Mohawk SmartStrand Carpet offers a unique blend of comfort, durability, and eco-friendliness, making it a leading choice for homeowners and businesses alike. With its innovative fiber technology, easy maintenance, and range of design options, it's an investment in both style and longevity. So, if you're in the market for new carpeting, SmartStrand offers a compelling package that's hard to beat.
---
---