About Shaw Tile Flooring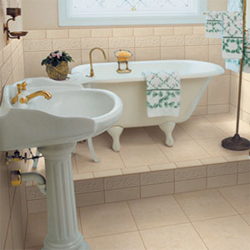 Shaw Tile Flooring: The Complete Guide for Homeowners
When it comes to choosing the perfect flooring for your home, Shaw Industries, a leading name in the flooring market, offers a wide variety of options. Among their extensive portfolio, Shaw tile flooring stands out as a particularly versatile and stylish choice for homeowners. But what exactly sets Shaw's tile options apart from the rest? This article will delve into the specifics, from materials and design to installation and maintenance, to help you make an informed decision.
Overview of Shaw Industries
Founded in 1946, Shaw Industries is a subsidiary of Berkshire Hathaway, Inc., and is headquartered in Dalton, Georgia. Known for their innovation, quality, and sustainability, Shaw offers a myriad of flooring solutions, including hardwood, laminate, vinyl, and, of course, tile. With a focus on both residential and commercial applications, Shaw has made a name for itself as a trusted supplier of flooring products worldwide.
Materials and Options
Shaw tile flooring comes in a variety of materials, each with its own set of benefits:
Ceramic
Durability: Ceramic tiles are known for their durability and are resistant to wear and tear.
Variety: Available in multiple colors, textures, and sizes.
Porcelain
Water Resistance: Highly water-resistant, making it ideal for bathrooms and kitchens.
Aesthetic Appeal: Often has a more polished look compared to ceramic.
Stone
Natural Look: Offers a rustic, earthy appearance.
Unique Patterns: No two stone tiles are alike, offering a unique flooring pattern.
Design and Aesthetic
Shaw's design options range from traditional to modern, catering to a wide audience. Whether you're looking for something that mimics natural stone or a more avant-garde pattern, Shaw's portfolio has you covered.
Color Palette: From earthy tones to vibrant hues, the choices are limitless.
Textures: Options like matte, glossy, and textured finishes are available.
Installation
One of the advantages of Shaw tile flooring is the ease of installation. Whether you're a DIY enthusiast or prefer professional installation, Shaw offers:
Click-lock Tiles: These are easy to install without specialized tools.
Traditional Tiles: These may require professional installation, including mortar and grouting.
Maintenance and Care
Shaw tiles are known for being low maintenance:
Cleaning: Simple to clean with just water and a mild detergent.
Durability: Resistant to stains, scratches, and fading.
Sustainability
Shaw Industries has a strong focus on sustainability, offering various eco-friendly tile options. They have multiple certifications, such as Cradle to Cradle, indicating a commitment to environmental responsibility.
Price Point
While Shaw tile flooring is not the cheapest option on the market, it offers excellent value for the money, especially when considering its durability and aesthetic appeal. Prices can range from $2 to $15 per square foot, depending on the material and design.
Final Thoughts
Shaw tile flooring offers an extensive range of options, making it possible for every homeowner to find something that suits their style and needs. With its focus on quality, design, and sustainability, it's no wonder Shaw Industries remains a leading choice in the flooring market. Whether you are remodeling a bathroom, updating your kitchen, or aiming for a complete home makeover, Shaw tile flooring is a reliable and stylish choice that promises to stand the test of time.
Disclaimer: Prices and product availability are subject to change. Always consult with a flooring specialist before making a purchase.
---
---