About Amtico Luxury Vinyl Tile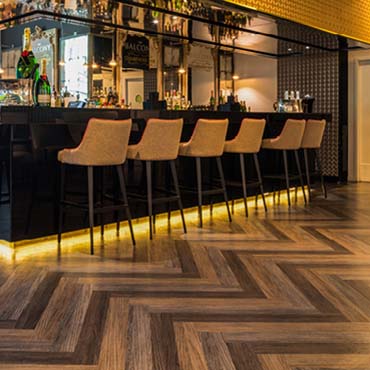 Product Visualizer >>>
Amtico's Luxury Vinyl Tile Flooring represents a blend of innovation, quality, and design excellence.
Amtico is a well-established brand in the flooring industry, known for its high-quality luxury vinyl tile (LVT) products. The company has built a strong reputation for producing versatile, design-led flooring options that not only replicate natural materials like wood and stone but also offer an array of abstract designs. These products are particularly favored for both residential and commercial spaces due to their durability, ease of maintenance, and aesthetic flexibility.
History and Evolution
Amtico has been at the forefront of the LVT market for over 50 years. Founded in 1964, the brand has consistently invested in research and development to ensure its products remain innovative and responsive to market demands. Amtico's design-led approach has seen it grow from a small company to an international flooring giant, with products available in a variety of regions across the globe.
Product Range
Amtico's product range is extensive. Their collections are usually categorized by aesthetic and performance. From the Signature collection, which allows for custom designs and layouts, to the Spacia collection that offers practical and stylish solutions at more accessible price points, there is something in Amtico's range to suit various tastes and budgets.
Their LVT products are designed to offer a realistic look and feel, with textures and patterns that closely mimic natural wood grains, stone textures, and other abstract patterns. This is particularly appealing for consumers looking to achieve a certain look without the cost or maintenance associated with natural materials.
Technological Innovation
One of the hallmarks of Amtico is its commitment to technological innovation. The brand employs a method called 'Multiple Performance System', which includes several layers – a toughened wear layer, a design layer, an ultra-stable core, and a backing layer. This combination provides a floor that is not only visually appealing but also highly resistant to scuffs, stains, and scratches, making it a practical choice for high-traffic areas.
Sustainability and Environment
Amtico is also recognized for its environmental consciousness. The company seeks to minimize its carbon footprint by producing all of their products in factories that adhere to strict environmental policies. Additionally, Amtico LVT floors are designed to be long-lasting, reducing the need for frequent replacements and thereby contributing to waste reduction.
Installation and Maintenance
Ease of installation is another feature that makes Amtico stand out. Many of their products come with click-lock systems that facilitate a relatively simple and quick installation process. Maintenance is straightforward, requiring only regular sweeping and occasional mopping, without the need for specialized cleaners.
Market Perception
In the world of LVT, Amtico is often perceived as a premium brand, known not only for its high-quality and durable products but also for its design leadership. Architects, designers, and homeowners often gravitate towards Amtico when they want a flooring solution that combines aesthetic appeal with practical performance.
Conclusion
With its rich history, broad product range, commitment to sustainability, and consumer-focused approach, Amtico remains a prominent name in the world of luxury flooring solutions, continually setting benchmarks for quality and creativity in the industry. Whether for a commercial project or a residential renovation, Amtico's LVT offerings continue to be a go-to choice for those in search of the perfect marriage between form and function in flooring.
---
---